The Fullerton Observer reviews High Fidelity:
August 01, 2011
"As for Rob, (Sheldon) Morley is very lovable, while still giving off a slacker vibe. There is something endearing about him even as he slides into an ever-growing depression over his breakup. Even as he starts calling Laura's cell phone an obsessive number of times, the audience cannot help but like him."
Stage Scene LA reviews High Fidelity:
August 02, 2011
"Of course none of the above would matter a whit were Hunger Artists' intimate staging not blessed with a star-making lead performance by Sheldon Morley heading an all-around splendid cast, a trio of rockin' good onstage musicians, and designers who make the very most of an obviously limited budget.
About Morley's performance in The Full Monty a few years back, I wrote, "Sheldon Morley is the first Jerry I've seen who truly looks the part. (He) is also an excellent actor," remarks which explain just two of the reasons he once again merits raves for his star turn as Rob. It's easy to buy this big, scruffy dude as owning a rundown record shop, loving his 45s more than life itself, and screwing things up with a babe like Tara Pitt's Laura (just as it's easy to believe that Laura would fall for this Rob's big big heart). Effortless at chewing the fat with the audience and never anything less than spontaneous in his interactions with other characters, Morley happens also to have just the right rocker pipes to belt out Rob's songs precisely the way they should be belted."
Gold Star Reviews High Fidelity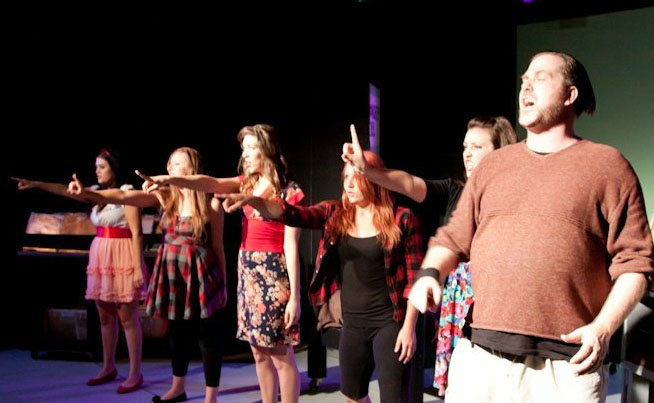 July 25, 2011
"A delightfully energetic musical inspired by the John Cusack/Jack Black film (and earlier novel) about music store slackers, relationships and commitment, and the love of classics on vinyl. Kudos to a stellar cast (especially Sheldon Morley as Rob, who's seldom off stage) with some doing double and triple duty. The songs are fun, clever and well-performed."
Stage Scene LA Reviews the Full Monty
January 28, 2008
by Steven Stanley Alhambra, CA
"Sheldon Morley is the first Jerry I've seen who truly looks the part… Morley is also an excellent actor, especially in his touching scenes with his young son Nathan (a promising professional debut for Mitchell Hart), and his soaring rendition of Breeze off the River is moving indeed."
BackStage West Reviews The Full Monty
December 12, 2007
By Les Spindle
"As focal character Jerry Lukowski, a ne'er-do-well divorced dad struggling to salvage his relationship with his son, Sheldon Morley scores equally well in boisterous comic numbers and in poignant ballads, and his characterization likewise hits all the right notes."